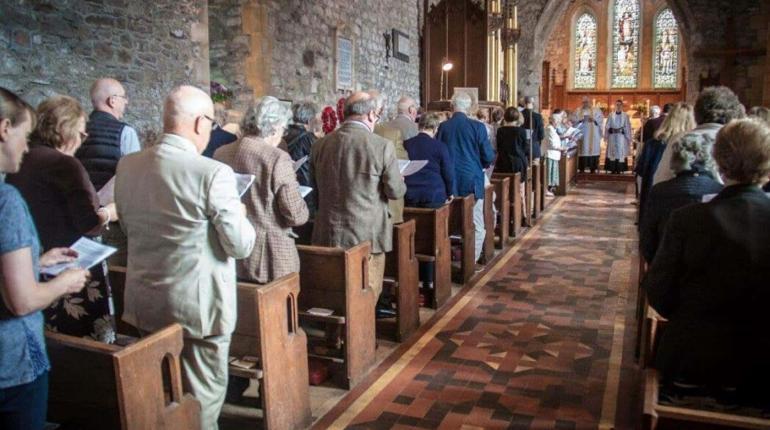 Dear Parishioners,
After a lot of planning and consideration, I'm very pleased to tell you that St. Michael's Church in Michaelston-y-Fedw will be open for Sunday worship, commencing on Sunday 26th July.
This communication details what you need to know. Please read all the information carefully.
Why is St. Michael's in Michaelston-y-Fedw reopening and not the other churches at this time?
A lot of planning has to be done to reopen a church due to ongoing Government Restrictions relating to COVID-19. St. Michael's was already planning for this as they have a forthcoming wedding to host in August. Therefore, the risk assessments had already been developed, and financial commitments had been made to ensure the church was in a position to reopen. After very rigorous checking and compliance, this has now been signed off and we have permission to open the church.
However, other churches will be able reopen when they are ready provided:
– They have enough volunteers to ensure the building is used safely and that sufficient cleaning is done
– They can complete a risk assessment which needs to be approved by me and the Archdeacon
– That the building is a big enough and has enough suitable facilities to reopenIn the first instance, Churchwardens will need to contact me if they wish to reopen a church building for worship.
We also need to be mindful that…
– Some parishioners will not want to venture out to church at the present time, which means we do not need to have all church buildings open.
– As clergy are few in number in these parishes, we need to utilise them in the most effective way possible, so as to continue online services and in-person services.
Who can attend a service at St. Michael's on a Sunday?
Anyone. The service is open to all parishioners, regardless of which parish they would usually attend.
What time will the service be on a Sunday?
The service will start at 11am.
Do I just turn up?
No. All those wanting to attend the church service must book in advance.
You can do this online by selecting the service at https://bmmr.church/events/ (select "Morning Worship" under the relevant date, and follow the instructions.)
Alternatively, you can book by calling the church office on 02921 880 212 option 1.
The tickets are split so that 50% of them can be booked online, and 50% can be booked over the phone.
Bookings will be open from 9am every Tuesday and will close at 3pm every Friday. You will only be able to book the next Sunday service.
There is limited capacity in the church, as we have to maintain social distancing.
What will happen to online services?
These will continue permanently, with the time remaining at 9am for the moment.
Why is there only one service on a Sunday?
We are starting out small and hoping to scale up if there is enough demand. If there is enough demand, we will probably introduce a mid-week communion service, but this is not decided at present.
What will the service look like?
That will depend on the officiating minister. However, the service may be either Holy Communion, Morning Prayer, or another type of non-eucharistic service. We are exploring new territory so things are likely to change and develop as time goes on.
We do know that, at the moment, no singing is permitted, and neither are shared objects such as Bibles, hymn books, and liturgy books.
Liturgy will either be displayed on a screen for people to follow, or a simple liturgy will be used which will not require a screen.
Notice sheets will be provided. These will be emailed out to attendees prior to the service for them to print out and bring along with them. Some hard copies will be available in church.
~~~
I hope you find this information useful. I would appreciate your prayers as we navigate these new arrangements. It will be great to see many of you back in church, and we look forward to welcoming you to worship once again.
Please bear with us! We're all learning together, and any further developments will be communicated with you at the earliest opportunity.
With all my love,
Rev. Dean
Rector & Vicar