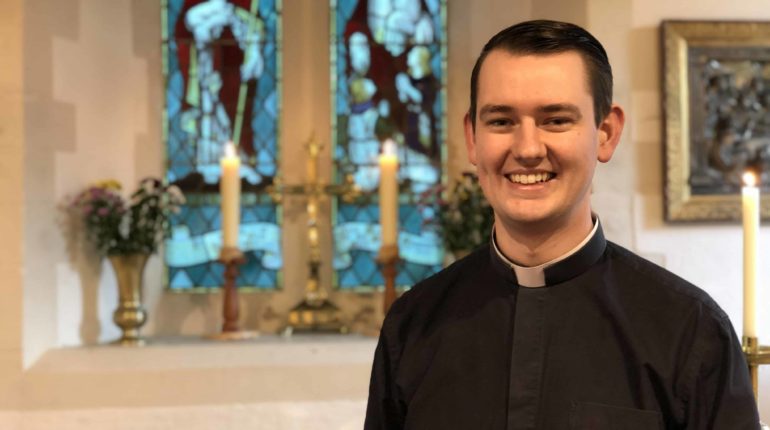 The Parishes of Bedwas, Machen, Michaelston-y-Fedw and Rudry are pleased to announce that the Reverend Dean Aaron Roberts, currently Assistant Curate, has been appointed by the Archbishop of Wales, the Most Reverend John Davies, to the post of Incumbent in these parishes. This means that Rev. Dean will be the Rector of Bedwas, Machen and Michaelston-y-Fedw, and Vicar of Rudry.
The announcement was made at all Sunday services on 10th November, which stated:
The Archbishop of Wales, in his role overseeing the Diocese of Monmouth, has appointed the Revd Dean Roberts as the next Incumbent of the Ministry Area of Bedwas, Machen, Michaelston-y-Fedw and Rudry. An induction service will be arranged in due course. Please pray for Dean and his family as he moves into this new role in the life of this Ministry Area.
Rev. Dean said,
I am very pleased and excited to be starting this new role in a group of parishes which I know and love so well. It truly is a great honour and privilege to receive this confirmation of what I believe to be a strong calling from God to serve here. I love the people of these village communities, and there's so much potential to see the Good News of Jesus shared in word and deed. I hope that my tenure here is marked by a focus on mission and evangelism, resulting in spiritual and numerical growth in the Church in this area.

I don't underestimate the challenges in the various parishes, and I am very aware of my own weaknesses and limitations. But I trust in a faithful God who keeps his promises, and I will be serving alongside a wonderful team. For that, I am truly grateful.

My prayer is that God will use me to build his Church here, and that we will once again become an integral part of the communities in which we aim to serve.
The special induction service, to be announced in due course, will serve to formally mark the start of Rev. Dean's new chapter in ministry as the Rector and Vicar.
ENDS.
+++
Notes:
The Reverend Dean Aaron Roberts  was educated at Cardiff University and ordained in 2016 after training for ordination at Trinity College Bristol, gaining a Master of Arts in Theology, Ministry and Mission. Prior to ordination, he has worked for Telefonica UK (O2) and St. Paul's Church, Newport as Pastoral Assistant and later Associate Lay Pastor.  He is married to Megan who is a health visitor and they have a son called Harri James, and another baby boy on the way, expected to arrive in December 2019.
The "Ministry Area" of Bedwas, Machen, Michaelston-y-Fedw & Rudry are a group of four parishes comprising of six churches which aim to serve the c.10,000 people living in Bedwas, Trethomas, Graig-y-Rhacca, Machen, Lower Machen, Draethen, Waterloo, Rudry, Cefn Mably and Michaelston-y-Fedw, and its surrounding farmlands.